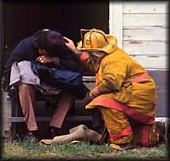 Pre-fit testing dates
February 6, 1999
February 27, 1999
March 6, 1999
March 20, 1999
March 27, 1999
April 3, 1999
April 20, 1999
April 17, 1999
April 24, 1999
May 1, 1999
May 8, 1999
May 15, 1999

FZWW8775
FZWW8776
FZWW8777
FZWW8778
FZWW8779
FZWS9122
FZWS9123
FZWS9124
FZXS9125
FZWS9126
FZWS9127
FZWS9128

When you register please indicate test date and code.
You will be given a test time.
It is importatant that you remember this time and ensure to arrive one half hour prior to testing.
All testing takes place at the Recreation Bubble, located on the west side of the Frost Campus.
&nbsp:
&nbsp:

NOTE:

To assure fair testing for all participants, only those directly connected with the exam will be admitted to the testing area.

(Physical Readiness Evaluation for
Initial Attack Forest Fire Fighters)

The PRE-FIT test is a requirement for all forest fire fighters who would like to seek potential employment on a Category 1 crew.
If your intention is to seek employment with a private contractor, (category 2) presently PRE-FIT is not required. The private contractors do however require a completed PAR-Q form and a Blood pressure clearance. To increase your chances of employment with MNR it is strongly recommended that you take the PRE-FIT test. (see Crew Categories)
Although it is not mandatory, the Canadian Natural Resource Training Centre recommends you complete a PRE-FIT test prior to enrolling into a S-100 course. This will allow you to determine whether you are physically capable of meeting the demands of the job. The PRE-FIT costs $100.00 and therefore it is in your favour to do this first because if you are not successful during the PRE-FIT test you may decide not to take the S-100 course at a cost of $650.00 (+$12.00 service fee)

REGISTRATION:

As a result of high demand and limited space for each testing date, acceptance into each date will be based on a FIRST COME FIRST SERVE basis. Participants may register in the Admissions Office at Sir Sandford Fleming College, Frost Campus, 200 Albert St. S., Lindsay Ontario either in person or by telephone (705) 324-9144 ext. 3268. If registering by phone, payment must be made by either Visa or Mastercard. If registering in person, cash cheque, Visa or Mastercard will be accepted.
To secure yourself a testing time the full price must be paid at time of registration. Appropriate fines will be charged against NSF cheques or invalid credit cards. If a problem arises with your cheque or credit card three business days will be allowed to rectify the problem, however, we can not guarantee your testing time will be secure during the three day period.


CANCELLATION POLICY:

Sir Sandford Fleming College reserves the right to cancel any courses/tests for which enrollment is insufficient. If we cancel a course you will be notified and a full refund of fees will be issued.


REFUND POLICY:

If you decide to withdraw, you must do so no later then 4:00pm on the Friday prior to your scheduled testing time. Your money will be refunded minus a $25.00 administration fee.
If you do not show up for your test time and no notice is given, your money will be refunded minus a $25.00 administration fee.
If you need to reschedule your test time, you must do so no later then 4:00pm on the Friday prior to your scheduled testing time. When rescheduling your money will be transferred as payment for your new testing time.



TESTING PRICE: $100.00 per person




Sir Sandford Fleming College - Frost Campus